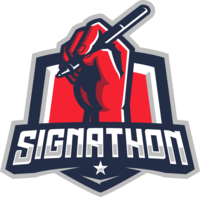 Signathon hosts virtual signing events from the comfort of your home allowing you to connect with a famous sports celebrity, either for a live broadcast, a one-on-one chat or even a group hangout. How sweet does that sound?
We're now giving you the opportunity to meet your favorite athletes directly from your living room, while also connecting with an MLB slugger, Super Bowl champ, NBA legend, boxing hero and more. Want to get a group of your friends together and get rowdy with a former All-Star? We've got you covered.
Hear What Others Have To Say About Past Signathon Events...
"This 1x1 experience was something I will never forget! I got to e-meet Sebastian Cordova and ask him questions about his career and get great advice to improve my own skills. I was able to purchase an authentic jersey of his for my younger brother's a Christmas gift as well. Thank you for an opportunity of a lifetime and fantastic customer service!"
Eduardo L. (Mexico City, MX)
"I attended the Signathon Live Event with Kendrick Bourne and upgraded my ticket to get the chance to talk to him 1x1 and receive an authentically signed photo after the event! As a huge Patriots fan, I will never forget this day and hope to give the photo to my son when he grows up. Great experience!"
Can't make the event? Shop some memorabilia from our past events!